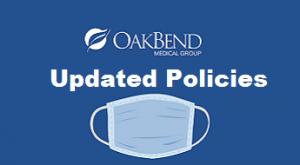 "Down below are OakBend Medical Group's updated policy's, this is not only to ensure our employee's safety but also yours during this pandemic-
1.       Proper signage will be placed on the doors to provide updated information related to OakBend Medical Group policy and procedure changes.
a.       "No Visitor Policy"
b.      "Please Do Not Enter the Office"
c.       "Notice of Compliance Requirements Concerning COVID-19 – Minimum Standards of Safe Practice"
d.      "Mask required for patients, physicians, and staff"
2.       Updates to the visitor policy includes the following:
a.       No visitors allowed within our clinics.  No pharmaceutical representatives allowed.
b.      Here are the only exceptions:
                                                               i.      1 parent or caregiver with a child
                                                             ii.      1 required medical decision maker with adults
                                                            iii.      1 caregiver for patients unable to ambulate by themselves
c.       This policy applies to all of our outpatient clinics.
3.       No patients allowed in the waiting room areas to help keep COVID-19 from spreading.
a.       Patients will be notified the day before their appointments to call the office at the phone number provided.
b.      Once the patient calls, the staff will provide the patient with instructions of when to enter the facility.
c.       Patients arriving will check in and be immediately taken into a patient room.
d.      All paperwork and triage will be completed in the patient room.
4.       All clinic staff temperatures and symptoms checked daily and documented
5.       Plexiglass dividers will be installed into the front reception areas to protect our front desk staff.
a.       Office managers have taken pictures of the front desk areas for orders.
6.       (1) N-95 mask provided to all staff and physicians.
7.       Clean and Sanitize Workplaces
a.       Cleaning of clinic areas:
                                                               i.      Use EPA approved disinfectants to clean the clinic areas, ie. waiting room, patient rooms, patient restroom, etc.
                                                             ii.      Follow the directions on the label for proper use of the disinfectants
                                                            iii.      Target high traffic areas like doorknobs, light switches, handles, phones, faucets and sinks
                                                           iv.      Clean visibly dirty surfaces with soap and water
b.      Cleaning of patient examination rooms:
                                                               i.      Use PPE when cleaning patient rooms of a suspected COVID-19 symptoms
                                                             ii.      Follow the directions on the label for proper use of the disinfectants and do not use the room for 1 hour.
8.       Maintain Good Hygiene:
a.       Continue to wash hands between patients and to avoid direct contact with your eyes, nose, and mouth.  Wash with soap and water for at least 20 seconds.  When soap and water are not available use an alcohol –based sanitizer.
b.      Practice social distancing.
c.       Practice good respiratory etiquette, including covering coughs and sneezes.
d.      Notify your office lead/manager if you are sick. Stay home."
Leave a reply